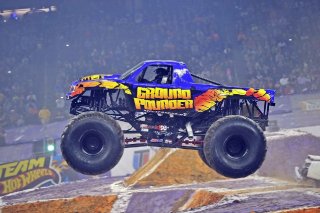 January 31, 2015 — Houston, TX — The team battled it out on a rough track with Ground Pounder and Amsoil Shock Therapy. The Sudden Impact team was on hand in Houston for  the last show of the year for the Fox Sports One Monster Jam series.   The Amsoil Shock Therapy and Ground Pounder were up against a very aggressive SoCal style track.   Practice on Friday got the team some great information to set up the trucks for the race.  The new body designs turned heads at the biggest pit party of the year.
Ground Pounder was up against the truck Heavy Hitter in qualifying, it was a tough decision but Heavy Hitter made a good save after drifting into Ground Pounders lane causing him to lift.  Due to safety concerns Ground Pounder was out of the fast eight.   Amsoil Shock Therapy qualified with the Rod Ryan truck.   It was a very close match up qualifying Amsoil in a solid fifth seat for racing, where he would once again meet up with the Rod Ryan truck.  Unfortunately, an electrical issue kept Amsoil from kicking the Rod Ryan truck off the pace.
Freestyle was full of momentum from Ground Pounder hitting all of the stacks and getting a nice cross thread on the very aggressive Houston track.  Shock Therapy did not compete in freestyle due to lack of time to replace a fly wheel.   All together it was a great weekend for the team.   Thanks to the thousands of Houston fans.   Next stop for Amsoil Shock Therapy and Ground Pounder  is Austin Texas.